Solo Shows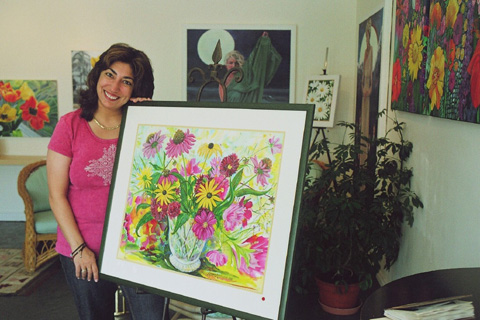 My Victoria Day Weekend Art Show was a resounding and surprising success. Surprising, because cold temperatures, constant rain and gale-force winds did not discourage my guests from making the trip north from Toronto or south from Parry Sound. Surprising, because each day started with an unexpected visitor, continued with a steady flow of enthusiastic friends and neighbours, and ended with more red dots than I could ever have imagined.
For three days my studio was "bursting," not just with "colour" but with genuine enthusiasm for my paintings, especially my flowers. Soaring in the delight of it all, I wondered if I would ever come down to earth.
Not to worry. A week of weeding, of down-on-my knees attention to my garden has completely grounded me. I watch as each day brings the poppy pods closer to their dramatic explosion. My canvas is ready and I am anxious to cover it with their particular vibrancy.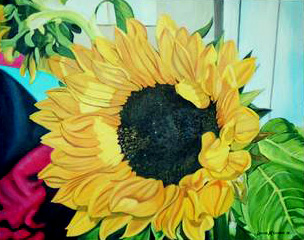 The flower, as subject, is, like a person, endlessly mysterious. As with a portrait, I search out the singular personality: the brazen demeanor of a sunflower, with its vast, veiny leaves challenges me to capture its irrepressible energy; the splayed tulips with their amazing blue/black eyes are harlots, voluptuous and sated.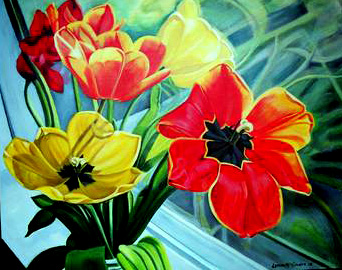 People and flowers. As the weekend proved, they make a great combination. As I am discovering, they have a lot in common. I look forward to a summer of painting both.
---
PRESS RELEASE: JUNE 1, 1998

FOR IMMEDIATE RELEASE

PORTRAITS THAT STOP TIME

Lenore McGovern

Here and Now Gallery

527 Parliament Street

Toronto, Ontario

June 25 to July 14, 1998

Gallery hours:

Monday through Saturday, 10am to 6 pm

Opening Reception:

Thursday June 25, 6:30 to 10 pm
In 1998, newly graduated from the University of Toronto and newly honoured as a recipient of the Elizabeth Greenshields Foundation Grant, I was ready to mount my first solo show in Toronto.
"You Must Remember This": Portraits That Stop Time, opened June 25, 1998, at the Here and Now Gallery in Cabbagetown. My collection of recent portraits were well received and the success of my show gave me further assurance that my decision to seriously embrace my future as a working artist was a right one, risky, but right.

My work has been shown in many juried shows (e.g. Toronto Outdoor Art Exhibition) and local studio tours (e.g. Kingston and Lefroy, Ontario) but now, responding to my new connection to nature on the shores of Lake Simcoe, I choose to show my work by opening up my studio each spring. With neighbours and friends I celebrate my paintings of flowers and food from the garden. Like my portraits, my sunflowers and onions, my tulips and apples are rendered with love, their unique beauty, their infinite variety, their signature personalities fully explored.